And breathe.
We are home.
It has been a hell of a week and although the attention and care we have received in hospital has been second to none, it hasn't gone smoothly, or to plan.
We started last week bouncing with excitement, watching with unrestrained joy as BB's spica was removed and her hip pronounced fixed.
Seeing those legs splayed out spica style caused a huge wet grin to linger on my face for hours.
We spent the week with friends, playing, and finished it off with a trip to Legoland where the lure of a slide proved to be a fatal mistake.
Then Friday afternoon BB ended up in a different hospital to where her hip was operated on and back on a stretcher.
Initial x rays showed nothing but movement was agony for my daughter and so we booked in for the night and she found solace in her fathers arms.
The next day more x rays showed BB's leg was broken and conversations between the two hospitals began on the best way to treat her leg.
A leg cast was suggested but dismissed on Saturday as putting too much pressure on the hip.  The word spica was brought back into play.
Sunday signalled confirmation, BB was going back into a spica cast for six more weeks.  My heart broke, I had longed to see my smallest cast free for her second birthday in three weeks.
To add insult to injury the hospital didn't have anyone to put a spica on so it was suggested that we moved 80 miles to her hip hospital, and then they changed their minds….  Again.
Conversations continued and suddenly darkness fell and we were destined to spend another night in bay 13.  Knowing six weeks of spica lay ahead I spent as much time bathing BB as possible in the hope the cleanness would stick to her.
Monday came and I wiped away the tears of yesterday.  Then monday finished with the only decision being made that BB would go back into spica in this hospital on Tuesday when the expert was in.
BB's baby got a raw deal, we put her back in spica first.
Finally four days after we broke BB she was placed back into a gown, wheeled into theatre, put gently to sleep and her legs wrapped up once more.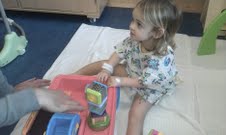 Then it all went wrong.
BB returned from theatre barely able to breathe in the new cast and had to return immediately for it to be cut.
This was the end result.
I hope even to a non spica parent you can see this isn't right.  Within moments she developed dry skin, red patches and bits started to fall off.
The doctors had gone home, we checked back in for night number five.
The next day we met the chap who originally diagnosed BB with hip dysplasia.  He spoke to us, agreed the cast was no good and said to take it off.  He took his mobile from his pocket and called his friend, BB's hip surgeon.
Five minutes later he returned, a new care plan prepared.
No spica, not six weeks in cast.
One leg cast, lightweight to not distress the hip.  Ten days till removal.
BB will be out of cast for her second birthday.
Lots of questions remain,
Why did she have a general anaesthetic when a spica wasn't needed.
Why were we given the anxiety of a potential six weeks in spica when the reality is less.
Why did it take six days and a lot of pain and distress for my one year old daughter to endure?
But we are home and happy; and completely flipping exhausted.
We  may have *borrowed* some cast styling materials to keep BB looking funky….