What a weekend,  the sun shone, the birds sang and the kids got to play outside like feral animals laughing and basking in the literal sunshine after the rain. 
And we were spoilt this weekend, not only by the weather but also with some lovely treats. 
Firstly twin girl and I took BB on an exciting trip to London to see In the Night Garden Live.  The journey was unremarkable (unlike last time when Twin Boy snorted a bogey covered croissant over an unsuspecting train passenger…) and the girls adored the show.  BB's mouth fell wide open as a giant Iggle Piggle danced onto the stage and frantically signed "more" when the boy band The Tomliboo's came on and did their stuff.  After the show we got to meet the infamous Upsy Daisy and I lost all self control when I gave her a huge high five and twin girl had to restrain me from pulling her cord.
Then at home more treats awaited us;  firstly we were sent a huge selection of unique soft toys from the fabulous people over at Aurora World. 
We held a toy fashion show to determine our favourite  and for us first place was awarded to The Gruffalo, second to the Aquarium and third for those cute little yoohoo guys.
Needless to say the kids have a lot of new friends to squeeze into bed with.
 Finally a treat for me.
 An exciting mystery bundle was seductively perched on my bed by he who helped create them.  Tentatively I eased open the packaging and found three stunning cushions from the folks over at Dunelm Mills. Dunelm Mills were always my favourite household shop in the north and I actually skipped with delight when they opened a store in my new southern home.  Each cushion has now happily found a home in my house.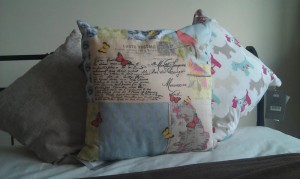 Thanks to everyone for making our weekend simply superb.
Details:
If you'd like to take the kids to see In The Night Garden Live then visit:  www.nightgardenlive.com or call 0333 300 0023
Tickets are £10 – 27.50 plus premium seats are available. Two separate shows throughout the run: The Pinky Ponk Show and The Ninky Nonk Show.
For more information the delicious soft toys, which include the Gruffalo, Moomin, Dear Zoo, Humf, Little Princess and the hugely popular brand YooHoo & Friends please visit their facebook sites: www.facebook.com/AuroraWorldEurope (NEW) and www.facebook.com/UKyoohoofanpage  
YooHoo & Friends, which are based on endangered animals from around the world, has become a global phenomenon since its launch in 2007. The brand won the Best Soft Toy of 2011 in the Independent Toy Awards as well as being labelled the 'must-have playground toy' by the Times!! – My brood really do adore them!
Then for grown up household shopping heaven, and more cushions than you can shake a stick at head over to Dunelm Mills and check out their fantastic, economically priced products.
Disclaimer: We were given free tickets to The Night Garden and send toys and cushions to review; the opinions remain those of mine and the kids.