Once upon a time there were five women.  All somewhere near the age of forty, some older, some younger, but mentally, they were pretty  much in the same place.  They had met as friends in a warehouse, out on an industrial estate in Oxfordshire.  One that was littered with barbells and kettlebells, and had formed a friendship they knew would stretch out for an eternity.
They had adventures, some involving golf buggies, pink flamingoes and surf boards.  Wherever they went they seemed to find seas full of fizzy wine and plates full of bread.  51 weeks of the year, these ladies were athletes, but this one of the year – they were committed to finding sun, fun, and crisp sandwiches.
Stepha was the sensible one, some of the time, responsible for keeping the ladies fed, driving them occasionally from sea to villa, her wild streak was always lurking though and her laugh simply infectious.
Sam, known for her untamable hair, and need for heat; was often the voice of reason in the group.  When the sunset fell behind the sea of an evening, and the ladies discussed whether to go home and stay out and play, she will pitch the concept of board games by the pool – sadly she is rarely obeyed.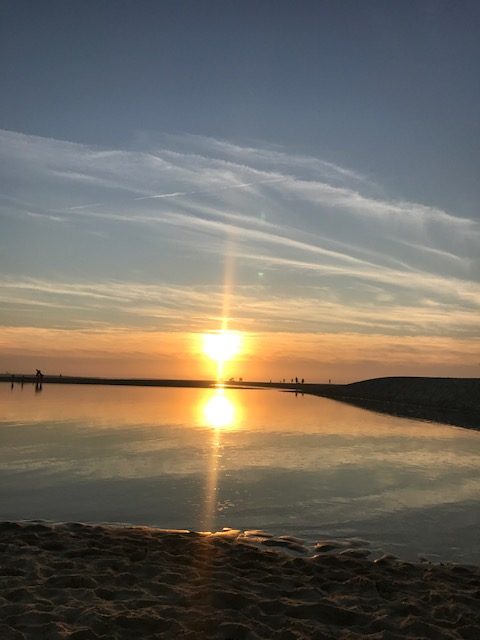 Nickie, the heart and soul of any occasion, often found wearing swimsuits and wetsuits back to front and upside down.  You will find her saying yes to anything and throwing herself in whole heartedly.
Sara, the night owl, lost in a group of women who see midnight as a time for shut-eye, the party animal, the dancing queen, who fights her fears daily on a bicycle and does it with style.
And me, the author of the tales, the one charged with writing down the fun so it is immortalised forever.
This is our story, of our week in France, where we shirk our parenting responsibilities, act more like our shoe size than our age, and all live with the repercussions of laughing so hard our sides hurt.
Because we refuse to always be the school mum, the foster parent, the worker, the CrossFitter.  Our week in France was about mixing all our pleasures, of the sun, the sea, a surf board, a paddle board, even a bike, plus food and drink in droves.
We are staying in a villa, a five-star one at that.  It is stunning, with our own ice-cold pool and veranda for drinks.  The bedrooms are luscious, wall to ceiling windows, blinds that turn day into night, the living room spacious and an eating area for everyone to enjoy Stephs cooking.
Moilet is a beautiful seaside town, with a plethora of French restaurants to suit every appetite.  The theme to the town is surf, as the waves crash onto the shoreline with a beauty that calls you into the ocean and wetsuit coated bodies flock to the water to try to master the foam.
And where we lowered the tone slightly by sending me out dressed as a Flamingo….
Food wise, we have eated like kings in most places but if you visit the region, going to Hotel de L'Ocean and Singe En Hiver are must do's for outstanding food.  Or Stephs cooking…
We have surfed, super Sam being most proficient, but Nickie being most commendable by battling her watery fear and riding the waves.
Biking is one way to get around town, with cycle paths leading off to the nearby villages of Azur, Leon, and the surrounding beaches.  Here you can find more watersports in the form of Stand-up paddle boarding and kayaking, plus boat trips around the lakes.
An alternate way to travel is via horseback, and we took an amazing hack out through the National Parc, and into the sea on our trusty ponies.  You may note only three of the five of us were brave enough to embark on this adventure.  Our other two 'strong' ladies have a deep rooted fear of four legged beasts.
Our trip thus far has been a perfect blend of relaxation in the villa, mixed with thrills on the beach.  For those wanting to taste what a French seaside town is like, Moilets is worth a visit, for families, groups like ourselves, and those seeking adventure – the town has something for everyone.  Add luxury to your trip by staying in a Summer France villa, perfect for all groups all year round.
And we will keep the adventures coming.
Thanks again to Summer France for hosting us.