Once the flight was firmly out-of-the-way, and the drive from the Airport complete, I found myself easing into the holiday with glee.
It was the middle of August, the weather was warm without being oppressively hot, I could hear the sea calling to me and all was well with the world.
The children were no longer bickering, instead they were throwing themselves around our home for the next 7 days, our stunning private villa, supplied by Madame Vacances in St Jean De Monts in the Vendee region of France.
Our villa was in the quiet resort of Le Domaine de Vertmarines.  Where you can holiday from as little as £299 pp for a seven-night stay in a two bedroom villa sleeping four, on a self-catering basis.
Our new home was a three bedroom villa, with a beautifully spacious lounge, and outside, its own  garden with a private pool.  Within moments of falling out of the car, the children had stripped the suitcases, found their swimsuits and were diving into the cool blue waters that were all ours!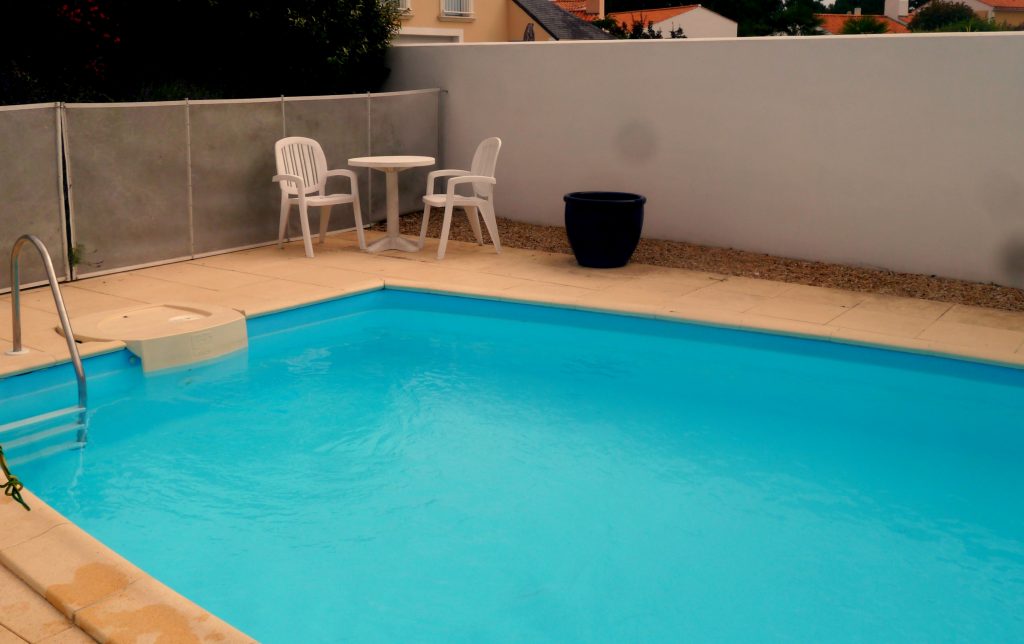 Happy days….
Over the next seven days we explored every inch of the St Jean De Monts, it is a cracking place to visit with kids, with miles of stunning beaches and an immense amount of outdoor activities to keep the whole family busy.
Plus there is a Creperie on every corner…..
What to do with kids in St Jean De Monts
The beaches in St Jean De Monts span 8km through the Vendee, and spending time on the sand is more than enough fun on its own.  The beach runs alongside a vibrant promenade where you can grab a coffee and a croissant, or a glass of Rose and a bowl of Mussels.  If you want to see the sea in a more unusual fashion, you can hire a four, six, or eight man bicycle pedalo and get some exercise whilst inhaling the sea air.
Through the reception on the Madame Vacances complex you can book to go to the local Horse Riding school and enjoy treks through the forest that encircles the town.    Then if you head down to Explora Parc, you can have a day playing on the high ropes, leaping from branch to branch and zip wiring at speed into the woods.
It's ace!
The fun doesn't stop there, St Jean De Monts is literally brimming with things to do.  The Water Park is a real thrill for the kids, and exhausting for the adults.  Five minutes drive from Le Domaine de Vertmarines you can go paint balling, quad biking, trampolining, and hire cycles to easily transfer from each activity.
Every day of our trip was filled with giggles, activity and a tired mum!
Coming home to a beautiful villa to be able to relax as the kids played cards and scrabble meant I could plan the fun of the next day and get a stunning nights sleep.
Villa holidays are perfect for those who want to enjoy time as a family, relax over food and really enjoy each others company.
If only we could go back!
About Madame Vacances
Specialising in hassle-free holidays throughout France since 1991. With 45 resorts offering upscale hotels, Alpine chalets, holiday cottages and self-catered villas with pools in its prestigious portfolio, Madame Vacances offers great value holiday options that cater for all styles and budgets.
From family holidays to golf getaways and beach breaks along the French West Coast to winter escapes exploring some of the Alps' top ski resorts.  The villas are beautiful, clean and offer everything you need whilst away from home.
We would highly recommend and are so pleased to have worked with Madame Vacances this summer on an unforgettable holiday.