One thing I was not prepared for when the kids went to secondary school, was how much access they would need to my IT!
The volume of homework they get is extreme, apparently no one hand writes anymore, everything needs to be googled, typed and printed out.
So it has been a bit of a problem that our printer has been slowly dying since Christmas….
Then it ran out of ink.
Then it was finally laid to rest in March.
To be quickly replaced by this beauty!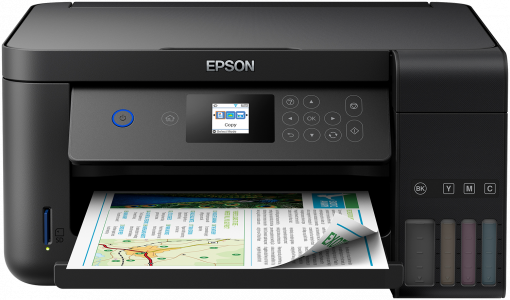 Gorgeous isn't she?
We call her Ellie for short, but her full name is the Epson ECOTANK ET-2750.
See why we went with Ellie…
And she has been kept busy!
I try and be friendly to the environment, but still, work dictates that I print a lot of work.  Luckily Ellie can print double sided, so it saves on paper.  Libby likes to print out things to colour, and the twins are always printing homework!
Ellie's ink goes on forever.
Well three years!
Ellie has an extremely low cost-per-page, it produces 14,000 pages in black and 5,200 in colour with the included ink.  Plus, even a fool can set her up – it takes minutes!
Add the ink, connect the wifi, and start printing!
With Wi-Fi and Wi-Fi Direct, you can send documents to print from smart devices using the Epson iPrint4 app. Additionally, its little LCD screen and SD card slot make it easy to print without a PC.
Hey – if I can make it work – anyone can!
It is silent, compact, sits beautifully in my office, and the whole family can access it with ease.
The nightmare of homework is over!
If you need an Ellie in your life, then the RRP £349.99 inc. VAT.
Thanks to Epson for sending Ellie into our world!